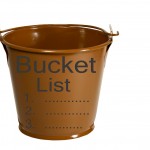 Am looking at my bucket list for 2012.
I can't scratch off "Achieve world peace," "Tour Ireland," or "Lose 30 pounds" today, so I'm concentrating on another item on my list: "Find something to come out of."
Or, for you grammar purists, I want something out of which I can come.
Everybody is doing it these days, you know.
They're coming out of the closet, out of hiding, out of prison, out of bankruptcy, out of hibernation, out of retirement.
The problem is that I'd have to go into those things before I could come out of them, and I don't want to do that.
Last week I came out of the house, just to discover that the temperature was 21 degrees, so I went back in.
I thought about coming out of the woodwork but apparently only bugs and pests and overwhelming amounts of icky things do that.
I could come out of the blue and arrive on someone's doorstep unexpectedly, but I don't want to do that either because I'm not sure I'd want someone to do that to me.
Yesterday I cranked up the heat in my kitchen thinking of that old axiom," If you can't stand the heat…" then I remembered that the rest of the saying is "get out of the kitchen."  If only they'd said "come" out, then I'd have this one licked.
Help me, dear readers.  What have you "come out of" that has worked for you?  Finish the sentence:  "I've come out of ________ and it was good/bad because __________."
Explore and Grow: Ephesians 4:9 ─ "Do not let any unwholesome talk come out of your mouths, but only what is helpful for building others up according to their needs, that it may benefit those who listen."