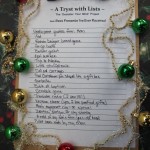 This week: List the best presents you've ever received.
Christmas, birthday, wedding, whenever.
Add some story reminders too, if you plan to share your list with your children or grandchildren one day.
For example, my mother used to tell me about a red-stoned ring she received at age six for Christmas. She pretended it was a real ruby.
I visualized a happy, carefree child playing princess.
But that changed one day when I asked her for the story.
She sighed and forced a smile.  Her story touched my heart.
Every Christmas, she and her siblings received one gift each.  That particular year, she was in first grade, 1940.  Times were tough and my mother's family was poor.
On the first day back to school following Christmas break, my mother proudly climbed aboard the rickety old bus and sat beside a classmate.  The other little girl admired her ring and asked if she could wear it home just one night.
My mother agreed to the girl's request. (If you knew my mother, this won't surprise you…)
The next day the little girl returned without the ring, saying she'd lost it.
And that quickly, my mother's cherished ring was gone.  Her family had no money to replace it. So, my mother had to wait for a year to receive another Christmas gift.
Heartwrenching, eh?
Another example: Fast forward many years to when I was three and received a doll and a stroller.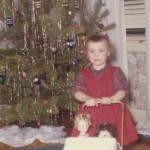 Yes, that's me in the picture.  The doll on the right, Abigail, was the one I received. The one on the left was a hand-me-down from a cousin, with the hand-me-down name of Ginger.
Every year, my mother made sure my brother and I received more than she had as a child. We each got three gifts, and one was always clothing.
This doll and carriage were special to me and lasted for years.
Now, what makes this doll interesting is the story: I was the quintessential tomboy. So, I have found pictures of this doll tossed on a hay bale in a field, dropped on the barn floor as I fed the calves, sitting on third base while I played ball with my brother and his friends, perched on a rock by a creek as I captured tadpoles, and resting on a tall beam in the barn from which my brother and I would jump into a huge pile of shelled corn.
And, yes, much to my mother's dismay, I accomplished many of these antics in a dress, much like you can see in the picture.
See what fun the stories are behind the items on a list?
Making my list has brought back many cherished memories (I'd forgotten about those go-go boots!).  I've received so many special items through the years, from Just My Joe (hubbie), the Prince (son), friends, etc.  My list was only partially done when I took the picture.
I hope you find the same pleasure in creating your list as you reminisce through the giving and receiving over the years.
Finally, and most importantly, let's not forget that Jesus is the reason for the Season and the most precious gift possible.
Merry Christmas!
Download your list here:  Template-Best-Presents-Ive-Ever-Received