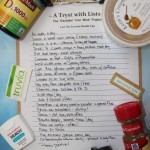 List:  My Favorite Health Tips
Happy New Year!
Last week our list involved changing our attitude about something we cannot change.
While our thinking plays a large role in determining our well-being, we shouldn't rely on attitude alone to safeguard our health. We need to take action to combat the genetics, environment and other issues that work against us.
My favorite health tips are diverse – from eating local honey to combat allergies, to consuming vinegar each day to increase energy and ward off ailments, to flossing regularly (at least daily), to keeping a hefty supply of lavender oil on hand for the startling amount of bug bites I get here in the south. If you want to read my full list, click on the picture and it will enlarge.
My all-time favorite – and necessary – health tip is so simple: Drink water.  A lot of water. The rule is, at a minimum: half your weight in ounces each day.
Years ago, for a three-year stretch, I suffered from a painful skin rash.  After countless doctors, prescriptions, lotions, and ointments, I one day read an article about how vital drinking water was for optimum health and weight control.  Imagine my surprise when I experienced an unexpected side-effect: my rash went away.
Turns out, I was dehydrating myself.
If you struggle with drinking enough water (like me), and find water rather boring (like me), then try one of these tips:
Fill a pitcher each day with your designated amount of water, add a couple slices of lemon, and drink throughout the day from a stem glass (so much more elegant and enjoyable), until you've finished the pitcher.
Or, keep eight (state your number) paperclips (or stones, marbles, nickels, etc) on your desk. After each 8-oz glass, slide one of the objects forward, signifying a finished glass.
Make your list of favorite health tips and review it occasionally to make sure you're on track!
Download your list here:  Template-MyFavoriteHealthTips
What are some health tips you've adopted that you find to be particularly beneficial?
Special Note: The Bible teaches us that there's nothing new under the sun.  I learned that recently…imagine my surprise when I found another site that produces a weekly list.  It's a good thing ideas can't be copyrighted!  And her photography is better! I'm working on mine…I hope you stick with me on this project, but I'm going to share that site's URL because I truly want you to find organization through lists, whether it's my site or another. If I can help even just one person…and help one person each day…that would be 365 in one year! That site: http://www.moorea-seal.com/2014/01/52-lists-project-week-1-list-words-that.html?utm_source=feedburner&utm_medium=email&utm_campaign=Feed%3A+moorea-seal%2FytjR+%28M+O+O+R+E+A++S+E+A+L%29.