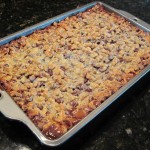 In college, I discovered that I am more productive and creative, and can remember things longer, when I'm eating.  (Yes, I gained the "freshman fifteen" and then some.)
Fast forward more years that I want to admit, and here I am—a writer and consultant working from a home office.  My experimentation with food and creativity continues.
I've learned that for the toughest, most horrible bouts of writer's block, I need a batch of the goodies below.  Like the best things in life, they are simple, only taking about five minutes to prepare and less than a half hour to bake.
There's just something about the mixture of these ingredients that causes a creative chemical reaction…
Seven Layer Cookies (aka, Seven Layers of Creativity)
You will need:
1/3-to-1/2 cup Butter – (Concern)
1 cup Graham Cracker Crumbs – (Determination)
1 cup– Chocolate Bits – (Perseverance)
1 cup Butterscotch Bits – (Research)
1 cup Coconut – (Self-Confidence)
1 cup Nuts – (Enthusiasm)
1 can Sweetened Condensed Milk – (Prayer)
What you do:
Crank up the heat! (Set your oven at 350 degrees.)
First, melt your concern in an appropriate vessel.  (Melt butter in a 9"x13" pan).
Cover your concern (butter) evenly with determination (graham cracker crumbs).
Next, spread evenly over the butter/crumb mixture: perseverance (chocolate bits), research (butterscotch bits), coconut (self-confidence), and nuts (enthusiasm).
Now the fun part: Drench your concoction with prayer (sweetened condensed milk), making sure it covers and smothers every bit of concern, determination, enthusiasm, you get the point.
Bake for 20-25 minutes or until YOU feel golden brown on the edges and ready to be creative!
Finally, write to me and let me know if they aren't the best doggone creativity-inducing thing you've ever consumed!