Edging through the Darkness (book #2 in The Crossings Trilogy) was released in May and I'm receiving a variety of questions! I'll answer them in this blog from time to time, but here are the top three so far:
publication date of book #3? (I don't know…I'm anxious too!)
whether Grace will choose life/death/Will/Clay/Seth? (sorry, that would spoil your fun), and
recipe Grace used to make Chicken Fajita Pizza in book #2?
Yeah, that third question startled me, too.  But as someone who loves to eat, and especially loves simple-but-delicious meals that can be made at home, I shouldn't be surprised.
So, I want to share that recipe with you. Then, you too will learn why Michael liked it so much that he he kept nibbling at the chicken before it even got to the table.
First, let me give credit where it's due. The original recipe came from Southern Living.  I adapted it for my spicier tastes.
Chicken Fajita Pizza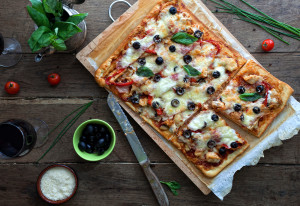 Ingredients:
½ (24-ounce) package refrigerated pizza crusts
3 skinned and boned chicken thighs, cut into strips (use breasts instead if you're concerned about calories)
1 tablespoon oil (I prefer coconut oil for cooking)
2 1/2 teaspoons chili powder
1 teaspoon Italian seasoning
1 teaspoon salt
1 teaspoon garlic powder (or, better still, use a garlic clove chopped fine)
1 medium onion, chopped
1 small green bell pepper, chopped
1 cup salsa
1 (8-ounce) package shredded Monterey Jack cheese
Toppings: diced tomatoes, diced black olives, shredded lettuce, sour cream to taste
Steps:
Place crust on baking sheet (lightly greased).
Sometimes salsa is particularly liquidy on top; in this case, do your best to drain that portion and opt for the thicker portion beneath. Otherwise, your pizza may be slightly liquidy as well.
Sauté chicken in hot oil in a skillet over medium-high heat 5 minutes or until tender. Stir in chili powder, Italian seasoning, salt, and garlic powder. (If you use chopped garlic, then sauté it with ingredients in next step). Remove from skillet, and set aside.
Add onion and bell pepper to skillet; sauté 5 minutes or until tender.
Spread crust with salsa; top with chicken, onion mixture, and cheese.
Bake at 425 degrees for 10 to 12 minutes or until cheese melts. Serve with desired toppings.
Enjoy!
—If you haven't had a chance to check out my book series, The Crossing Trilogy, I hope you will! The first two books, Crossing into the Mystic and Edging through the Darkness, can be ordered through your local bookstore, or via Amazon and Barnes and Noble. Thank you to everyone who has taken a moment to leave a review on Amazon or recommend it to friends.