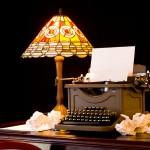 Dear Editors:
I know you vehemently dislike "ly" words.
You unapologetically have made that brutally clear at each conference I've dutifully attended, and with each painstakingly written work of mine that you've heartlessly, err, wisely rejected.
Fortunately, I finally and earnestly get that.
Truly, I do.
Honestly.  Genuinely .  Sincerely.
So, I enthusiastically promise to strongly do my best to systematically eliminate "ly" words when I see them.
In fact, this will be my gift to the world.  Zealously, I'll start now:
Famous Novel: "Frankly, my dear, I don't give a damn." – Sorry, Rhett, now you'll have to say, "Scarlett, you're a hottie, for sure, but I just don't care anymore." (Um, offensive language must go too, I'm told.)
Book Title: "The Lovely Bones" – (Really?! But it's an adjective!)  We'll just change that title to "The Good-looking Bones."
Mark Twain quote: "Love—The irresistible desire to be irresistibly desired."  Ooops!  And this from the man who said that he never wrote "metropolis" for seven cents because he could get the same price for "city"!   The rewrite: "Love—The irresistible desire to be desired in a charming and alluring way."
The Bible:  "Surely goodness and mercy shall follow me all the days of my life…"  Oh my! I guess it will now have to read: "It is with unmitigated certainty that I know goodness and mercy shall follow me all the days of my life."
And there you have it—decidedly stronger writing!
Thanks for reading so diligently, dear editors.  Trust that, going forward, I'll be categorically eliminating the world's prose of "ly" words when and where I see it.
I'm absolutely looking forward to my new role.
Definitely!
Stay tuned for next week's posting: "Dwn wth vwls."
Public Service Announcement:  An Adverbs Support Group will meet this Friday at the home of Willy (umm, William) Kavanaugh.    Dr. Lesly (umm, Leslie) Mitchell will deliver a talk on "The Genocide of Adverbs," followed by a discussion of plans to lobby Congress  for a stimulus package for adverbs.   Hope to see you there!