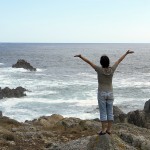 It was just a quotation.
There, on the page, amidst a sea of other pithy passages.
One of those finely honed constructs of words that make it into the quotation collections on my shelf.  The kind that make you mumble, "That's clever," or, because I'm a writer, "What a great thought; wish I'd written it."
It was a phrase, a rumination, an explicit reference composed of mere words.  Yeah, you may as well say mere dynamite, given the power some word combinations possess.
Words can close the deal, soften the heart, start feuds, set us free, make us cry, give us hope, break a marriage, build a nation.
But, those words must be strung together in just the right way.  Like the beads on a bracelet. The pattern on an afghan.  The ornamentation on a building.  The punch of John 3:16.
This quotation, too, was strung together in just the right way.
Right there. On the page.
It had first come to my attention from my new friend, Cecil Stokes, when he posted it on Facebook.  I had liked it. Pondered it.  Searched for it (in my books…an old-fashioned way to search, for sure.)
And there it was. In black and white.
Present only on the page, but crowding the room with its profundity.
Thirty-two, one-syllable words found in any dictionary; heck, even a children's dictionary.
Thirty-two, one-syllable words that, individually, each carry its own denotative meaning, but when laced together into this collective missive, packed so much connotative dynamite that I couldn't escape it.
For days.
It took up space in my mind until I finally went in search of it again.
And again.
Why couldn't I let it alone?
Why wouldn't it let me alone?
Was I supposed to do something with that phrase?
It read: "I don't want to get to the end of my life and find that I have just lived the length of it.  I want to have lived the width of it as well."
It cut through me like a knife.
Was it written for me?
I'm so focused on living into tomorrow, that I miss the nuances of today.  The messages of the moment.  The possibilities of the present.
The joys of discovery.
I should have written that quote.
And yet I didn't.
But, I am going to use it as a launchpad to create my own affirmation.
Mine reads:  "Dare: To reach life's end having lived not only its length, but also its depth, width and height."
Now it's only eighteen words instead of thirty-two.
Now it's action-oriented. Provokes accountability.  Transforms a wish into a possibility.
Now it's a dare I want…nay, need…to take on.
But how to put it into action?
When I talk to my client today, will I go beyond the work and ask about her family?  Perhaps share a bit about my life, as I so often struggle with in my writing?  Depth.
When I stand in line at the DMV, can I muster the courage to turn to the unknown person beside me and pay them a compliment?  Perhaps uplift their attitude for the rest of the day? Width.
Can I walk up to a stranger and ask if he knows God?  I'm no Beth Moore who always seems to say the right thing at the right time to the right person, but, shouldn't I try?  Height.
Depth – Explore the internal a little more.  Polish, revise what is uniquely me. Look inward.
Width – Reach out more.  Those to my left and right.  Those beyond my door.  Those I've not yet met. Those with a need.  Look around.
Height – Pray and praise more. Trust. Believe.  Ask for guidance and then be wise enough to discern the answers.  Look up.
Look inward.  Look around.  Look up.  Even as I continue to look into my life's length, into tomorrow…here, on the Blue Ridge backroads.
If this touches you, tell me how you want to go deeper, wider and higher to explore new possibilities and to take risks.  And, please join me, each week, as we explore this affirmation to add depth, width and height to those long lives we plan to live.