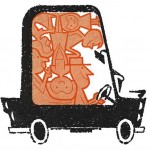 When I tell my non-writer friends (NWF) that I sometimes drive eleven hours between Marpennsylginia and Georgia without ever turning on the radio, they cock their heads in wonder as though they're trying to figure out this phenomenon.
Their next question: "You travel with someone?"
"No, I travel alone," I respond, even though that's not quite the truth.
NWF: "But what do you do without music and talk radio?"
Me: "I work."
NWF: "You work?!  How do you do that?"
Sigh…where to begin?
What my NWFs can't grasp (because their minds are normal, their thinking healthy) is that a writer is working when he's driving down the road…and when she's staring out the window, and when he's mowing the lawn, and…you get the point.
And yes, as for driving alone, I told a little white lie.  It's easier to say I'm alone than to face the glazed looks my NWFs shoot me when I tell them that my car is actually quite crowded―with at least six of my key characters.
What's more, these six characters all talk at the same time.  They reveal their personality traits.  They demand more page space from me.  They talk and argue with one another, which of course means that at the next rest stop I have to write down their comments because I generally forget to pack my tape recorder.
At least 50 percent of the novel I recently completed was plotted and took shape on Routes 81 and 95, somewhere between Winchester, Virginia and Savannah, Georgia.
My first non-fiction book was developed almost 18 years ago on Route 70 between central Maryland and southern Pennsylvania.
I wrote this blog entry when I stopped for lunch just north of Charlotte, North Carolina, on my way to Georgia.
I can't imagine what I'd come up with if I ever drove across country.
 "I can't write without a reader. It's precisely like a kiss…you can't do it alone." – John Cheever