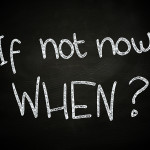 We've all seen these motivators. These kick-butt, get-out-there-and-conquer the world catch phrases. Each implies we can be more than we are if we just go do it!
Think Tony Robbins' neuro-linguistic programming on speed.
Picture cheerleaders and pom-poms and confetti.
Hear fireworks and the soundtrack from Rocky as Sylvester Stallone races up those Philadelphia steps.
What a rush! What a promise!
But what a recipe for failure if now is not the time.
Yet, these motivators always stress that the time is NOW.  There may be no tomorrow! What are you waiting for? Lost time is never found again!
The problem is, the time to act is NOT always now.  And rather than motivating, such thoughts can cause anxiety.
The Bible, Ecclesiastes 3:1 to be exact, teaches us that there is a season for everything and a time to every purpose under the heaven.  A time to be born, and a time to die; a time to plant, and a time to harvest…etc.
What's more, we see God's signature around us everywhere affirming these words. He created the four seasons, and even before that, He did not create the heavens, earth, sun/moon, animals, man/woman, etc. all on the first day. There was a time, a season for each, a purpose for the process.
Further, He's given us seasons in our lives, and there is a purpose in the process of those stages and seasons, too. There is a reason for each season.
So, to my dear friend who has three small children and laments not having time to write: I know you will, one day. I'm proof of that myself. Your children will be small only once. Enjoy it while you can. That is your season now. A delayed dream is not a cancelled or forgotten dream.
To my beautiful friend who is suffering severe back problems: Now is not the time to move! You need to heal. Your season of moving will come soon enough. Hippocrates said that healing "is a matter of time, but it is sometimes also a matter of opportunity." Seize this season to relax and heal.
To the friend of a friend who dreams of starting his own business: First, get out of debt. Learn how to manage money, save, then take the chance. Financial expert Dave Ramsey says there are no shortcuts when it comes to getting out of debt. Do it directly, then reassess.
To the recent graduate who wants to jump into home ownership: You know who you are. Think twice before plunging.  Perhaps work at your job for a year to make sure you want to stay there. Your time will come and, trust me, you'll be a slave to a mortgage soon enough.
People rush all the time through time, trying to get it all done now.  Actress Brooke Langton likens this rushing to being in a car accident: "There's so much adrenaline rushing through you that you remember being in the accident but you don't remember any of the details."
Wouldn't it be better to do things in their season and, thereby, appreciate and remember their details? (And this is a question I direct to myself as much as anyone else…)
On the Other Hand
Sometimes there are things we need to do now, and I do mean NOW. If we are overweight, we need to make changes in our diets now.  The sooner the better, because it may save our lives. Other NOW action items we should consider: stabilizing our financial situations, fixing relationships we've damaged, and getting right with God. Anything else you can think of that has a NOW priority?
Bottom Line
To paraphrase Golda Meir, you must govern the clock, not be governed by it.
Please, let's all enjoy the seasons of our lives. And when a friend says they'll do it someday, pat them on the back and tell them, if applicable, that you hear a promise, not an excuse.