In high school my friend Teresa could sing like a lark. And she did, every chance she got.
One day I asked her how she did it. How could she overcome stage fright and sing songs in front of hundreds of people, without fear of rejection or critical feedback?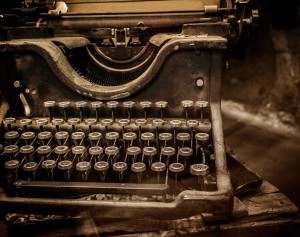 Her answer: "It's in me, and I've gotta' let it out."
Fast forward many years, and that's the same reason I write: It's in me, and I've gotta' let it out.
Well, okay that, and many other reasons, including that I: (1) cherish stories, (2) am passionate about exploring history, (3) enjoy connecting with readers, (4) love to create something from nothing, and (5) feel called to do it…it's part of who I am.
Then again, Natalie Goldberg, author of Writing Down the Bones said, "Writers live twice." Maybe therein lies my true desire…? I do know that I love the characters in my series, The Crossings Trilogy (find individual book titles below). These characters have been so much fun to spend time with, that I feel like I've lived a second life.
Are All Writers Like That Too?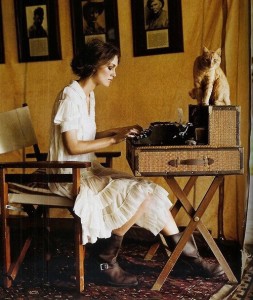 Probably, but I've learned that most famous writers provide more eloquent reasons than what I do, for writing:
Gustave Flaubert – The Madame Bovary author wrote: "Writing is a dog's life, but the only life worth living."
Lord Byron – This poet and author of the short lyric She Walks in Beauty, explained his writing penchant thus: "If I don't write to empty my mind, I go mad."
Truman Capote – The Breakfast at Tiffany's and In Cold Blood summed up his love of writing with this: "To me, the greatest pleasure of writing is not what it's about, but the inner music that words make."
William Somerset Maugham – This playwright and novelist who wrote Of Human Bondage, must have been a true introvert: "Writing is the supreme solace."
Ernest Hemingway – Author of The Sun Also Rises and The Old Man and the Sea, said: "My aim is to put down on paper what I see and what I feel in the best and simplest way."
Scott Fitzgerald – This author of The Great Gatsby said: "You don't write because you want to say something; you write because you've got something to say."
 Judy Blume – Author of Are You There, God? It's Me Margaret wrote: "Those of us who write do it because there are stories inside us burning to get out. Writing is essential to our well-being."
Anne Lamott – Author of Bird by Bird, said, "One of the gifts of being a writer is that it gives you an excuse to do things, to go places and explore. Another is that writing motivates you to look closely at life, at life as it lurches by and tramps around." Love the part about an excuse to do things!
John Grisham – Author of legal thrillers such as A Time to Kill and The Pelican Brief explained his life thus: "Writing's still the most difficult job I've ever had – but it's worth it."
Thomas Berger – This author of Little Big Man wanted to make us think a bit with his quote: "Why do writers write? Because it isn't there."
George Orwell – The author of Animal Farm said: "Writing a book is a horrible, exhausting struggle, like a long bout of some painful illness. One would never undertake such a thing if one were not driven on by some demon whom one can neither resist nor understand."
Harper Lee – This author of To Kill a Mockingbird surprised me with her quote, given that her novel is probably one of the most-loved books in American history: "I would advise anyone who aspires to a writing career that before developing his talent he would be wise to develop a thick hide."
John Ashbery – When asked why he writes, this poet said: "Because I want to." Gotta love that no-nonsense response.
Flannery O'Connor – This author of A Good Man is Hard to Find famously answered why she writes with this: "Because I'm good at it."
William Carlos Williams – This author of The Red Wheelbarrow said: "I think all writing is a disease. You can't stop it."
Regardless of why writers write, this perfection-seeking writer found solace in these words from Ernest Hemingway: "We (writers) are all apprentices in a craft where no one ever becomes a master."
---
If you haven't had a chance to check out The Crossing Trilogy, I hope you will! The first book, Crossing into the Mystic, can be ordered through your local bookstore, or via Amazon and Barnes and Noble. Book #2, Edging through the Darkness, was released May 2015. Thank you to the many who have taken a moment to leave a review on Amazon or recommend it to friends.