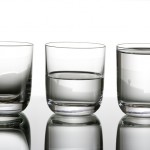 Turns out, you can teach an old dog new tricks.
The "old dog" would be me.  Some may argue that I'm not technically old yet, but I know I've already had more trips around the sun than I care to acknowledge.
The "new tricks" would be the simple acts of kindness and compassion.
The lesson?  It arrived the last week of October when my mother suffered a massive stroke.  She survived six days, then passed away on November 3.  Instantly, I joined that group of special, shell-shocked, changed women who've lost their mothers.
When we buried Mom, part of me went with her.
The glass half empty.
However, in that odd and mysterious and sometimes confounding way that God gives and takes, He simultaneously refilled my glass with lessons…nay, gifts…of kindness and compassion that I'd never experienced.
So profound were these lessons that when my mind drifts back to that hospital room on the fourteenth floor, the horrible vision of my mother lying there taking her last breaths doesn't last long.  Instead, it fogs and blurs, slowly morphing into visions of the touching acts of kindness I experienced.
His messengers, his tools, his agents for these lessons of kindness were called Darlene, Mandy, John, Doris, Pat, Mike, Amy and Kathy, and probably countless others I've forgotten but will remember right after this is posted. 
You see, for six days and nights, as I sat by Mom's hospital bed, one or more of these people was with me, praying, holding my hand, handing me tissues, answering my cell phone, texting updates to relatives, finding pictures, retrieving the nurses, making sure I ate something, and listening with an intensity that allowed me to ignore that I'd already sobbed out the same thoughts at least a dozen times.
Sure, I'd been kind and compassionate before then. When someone died, I'd feel sad for those left behind. I'd offer sympathy, say a few prayers for comfort, send a card, offer assistance, sometimes make a casserole.
But these messengers – Darlene, Mandy, John, Doris, Pat, Mike, Amy and Kathy – demonstrated a whole new level of action and empathy and compassion that I'd never even thought about before.
Applying the Lessons
For those who follow this blog, you know I've found meaning in Ephesians 3:18 – "…that you may be able to comprehend with all the saints what is the width, and length, and depth, and height…" (of Christ's love).
And, that I have revised that verse into my own personal dare: To reach life's end having lived not only the length of it but also its depth, width and height.
Depth – I think the lesson here, for me, is not only that I need to go deeper when others feel pain, but also to allow them to go deeper.  Anticipate their needs. Put myself in their shoes. Let them talk in-depth.  I don't need to have the answers, the wise words of wisdom.  All I need to do is listen. 
My messengers did that, and when the funeral was over and I journeyed back to Marpennsylginia, then Just My Joe took up the task.  He has listened, rubbed my back and held my hand, and has never complained once.
As I've already learned, women who have lost their mothers are prone to cry unexpectedly: at holidays, at the whiff of certain perfume, at their own aging reflections as they see their mother's face more each day, and at each split-second realization that reaching for the phone will not produce their mother's voice.  Having a loving husband with strong shoulders comes in handy at these times.
Height – Years ago, just before my mom was diagnosed with lupus, I thought I was going to lose her, and I begged God to give me more time.  He did.  He gave me ten more years with her. So, I can't complain.  I can't ask God to bring her back; that would be impossible. And, I can't ask Him to take away the grief. That too would be impossible.  But I can ask for comfort, for the veil of grief to lift somewhat so that I can establish a new "normal."  And, He is granting it.
Width – I see now that little acts of kindness at such a time do mean a lot. Wondering if you should pay a visit? Make a call? Send a card? Yes! Does a silly little mass-produced card, for example, really mean anything at such a time? Yes!
I spent six days in a hospital, unable to concentrate on anything, especially a book or magazine with messages of more than three sentences in length.  When a card would arrive, I'd devour it, study the picture, read the message, ponder the emotion that prompted the sender to make the effort. The card reminded me that others knew my pain, that they cared, and that they understood what was happening.
I could rattle off for you the names of each person who sent a card to the hospital that week, but I couldn't tell you one single item of food that I ate, how much, or when.
Those simple little cards connected me to others at a time when I felt so alone, so isolated from the world.
 Those simple acts of kindness and compassion are everything but simple.
 Thanks, to everyone who reached out, sent a card, said a prayer.
 And, special thanks to: Darlene (cousin), Mandy (cousin), John (uncle), Doris (Mom's best friend), Pat (friend), Mike (pastor), Amy (his wife), and Kathy (friend).